🇭🇷Argentinski tango, PokreTTango, Stretch - tango, privatna poduka plesna i individualni plesni programı onLine uz tutorstvo
🇬🇧🇺🇸Tango Argentino, PokreTTango, Stretch - tango private classes  and individual dance programmes onLine with tutoring
 #tangoargentinobezgranica #tangoargentinowithoutborder #inyourtimetango 

STUDENI/NOVEMBER
🇭🇷Da(ma)Ma(n) seminar za plesače i plesačice tango argentina uživo i online by Jelena Somogyi
Slobodnije i opuštenije kretanje. Zablistaj u Ogledalu ogledala. Razgovor uz čaj nakon lekcija. Srijeda uživo/online.  Prijave do 5.11.2023. Početak 08.11.2023.
1.Vježbe za tijelo, dušu i slobodu.
2.Tango i plesnost.
3.Čaj, svijest o komunikaciji, bivanje i čipkanje nogicama. Više od plesa. Obavezne plesne cipele na petu, ali ako ih ne nosite ok. 
Registracija (link) i info: This email address is being protected from spambots. You need JavaScript enabled to view it., +385 98 950 2738 (WhatsApp - izvan Europe). Korisnička članarina 240,00HRK/31.85EUR  - 4x (SEMINARA).
🇺🇸🇬🇧Da(ma)Ma(n) seminar for dancers tango argentino live and online by Jelena Somogyi
Freer and more relaxed movement. Being in the moment and being supportive. Shine in the Mirror of mirrors. Talking over tea after class. Wednesday live/online. Once a week 2 hours. Applications until 5.11.2023. Starts 08.11.2023.
1.Exercises for body, soul and freedom.
2.Tango and danceability.
3.Tea, awareness of communication, being and lace with your feet. Mandatory heeled dancing shoes, but if you do not want wear them no metter the reason is OK.. It's more than a dance.   
💻Registration (link) and info:
This email address is being protected from spambots. You need JavaScript enabled to view it.
, +385 98 950 2738 (WhatsApp - outside Europe). User membership fee 240,00HRK/31.85EUR - 4x (SEMINARS).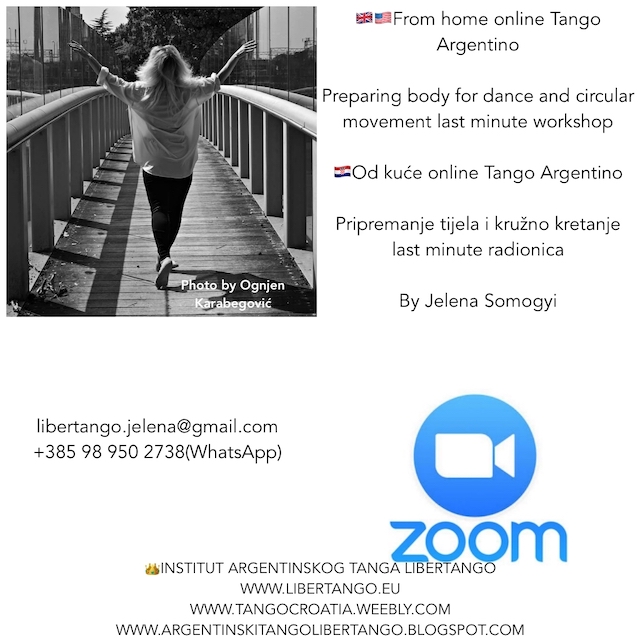 From home online Tango Argentino - Preparing body and dance SOON❣️
Part 1 05:00 -05:45pm Thursday/09:00 - 09:45am Saturday  and part 2. 6:00 - 06:45pm Thursday/10:00 - 10:45pm Saturday.  Book your appointment on Saturday morning or Thursday evening. .
Registration (you get link) or more info: on
This email address is being protected from spambots. You need JavaScript enabled to view it.
, +385 98 950 2738 (WhatsApp - outside Europe), or via the contact form on the website. User membership fee 10 EURO per appointment or 31 EURO for 4 appointments. Sign up two days before for booking drop in, for the monthly membership fee until the end of March.
Exercise and dancing equipment
Clothing made of lightweight and stretchy materials-
Footwear should adhere to the foot to be flexible, socks.
Elastic band or pantyhose.
Floor pad (beach towel, blanket, karimat....).
PART 1 - A workshop that blends yoga, tango and other body practices to enhance and flexibility, mobility, sensation and possibility in ourbodies and the dance.
PART 2 - Drawing on the practice of biotensegrity and her extensive knowledge of tango, Jelena will lead us to understand the role of feet, ankles, gluteus, quadriceps, last lodge and leaves in our dance, and what happens when we find dissociation.
Od kuće online Tango Argentino - Pripremanje tijela i ples 
1. dio  05:00 -05:45 četvrtak/09:00 - 09:45 subota i 2. dio. 6:00 - 06:45 četvrtak/10:00 - 22:45 u subotu. Rezervirajte subotu ujutro ili četvrtak navečer. 
Registracije (s registracijom dobijete linki) i dodatne informacije na
This email address is being protected from spambots. You need JavaScript enabled to view it.
, +385 98 950 2738(WhatsApp - izvan Europe), ili putem kontakt obrasca na web stranici. Jednodnevna korsnička članarina 10 EURA po terminu ili 31 EURO za 4 termina. Prijavite se dva dana prije za jednodnevnu korisničku članarinu. Prijave za mjesečnu članarinu do kraja ožujka.
Odjeća od laganih i rastezljivih materijala
Obuća, sokne.
Elastična traka ili hulahopke.
Podloga za pod (ručnik za plažu, deka, karimat).
Prvi dio - Radionica koja spaja jogu, tango i druge tjelesne prakse kako bismo poboljšali i fleksibilnost, pokretljivost, osjećaj i mogućnost u našeg tijela i plesa.
Drugi dio - Oslanjajući se na praksu biotensegrityja i njezino opsežno poznavanje tanga, Jelena će nas voditi da shvatimo ulogu stopala, gležnjeva, gluteusa, kvadricepsa, zadnje lože i listova u našem plesu, te što se događa kada nađemo disocijaciji.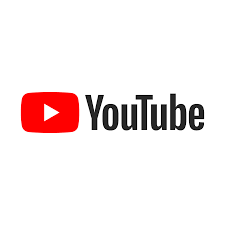 🇬🇧🇺🇸Our dance classes of tango argentino are active online and with video links (made for you). You can book your Tango Argentino class online or video with (explanations on special link, also possible download). Private and Semi Private tango dance lessons may include posture, technique, embrace, figures/steps, sequences, skills for social dancing and preparing for tango competitions. Anyone who has chosen this option, lessons will be available after appointment through the different media used by individuals for them all the time.
We will communicate about your tasks and progress thru WhatsApp, YouTube, Hangouts - live video call. 
💕The greatness's thing is if you send us your video of excising and let us upload on our YouTube channel that will engage people more broadly to improve skills. Extremely useful for the entire @tango community and new tangueras/tangueros.  
Additional information and applications for online content are required on This email address is being protected from spambots. You need JavaScript enabled to view it., +385 98 950 2738 or via the contact form on the website. Semi private via one-day user membership fee for a video class 60/70HRK or for all parts of the monthly user membership fee 180/240HRK - 4 videos. Price of private lessons on link. Payment by account for Croatian citizens, paypal for all others.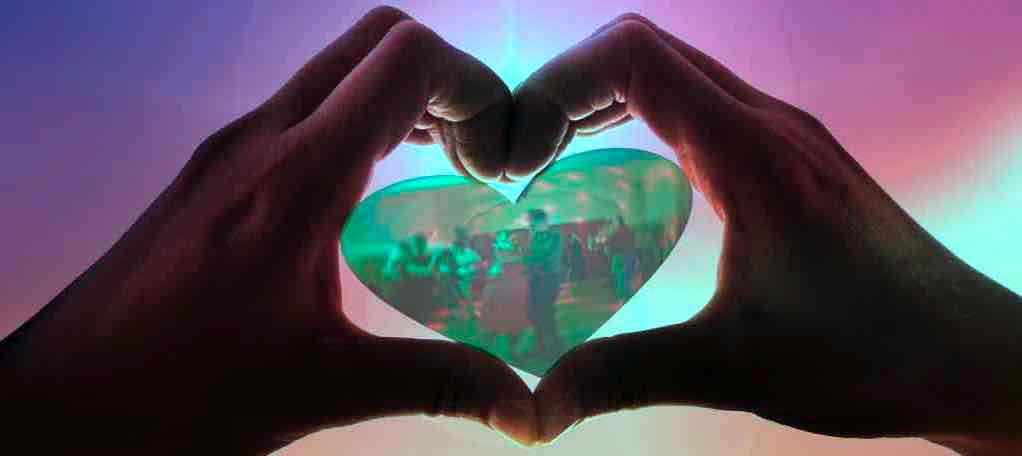 🇭🇷Naši sati tango argentino su aktivni online i putem video linkovima (napravljenih za vas).  Možete rezervirati svoj termin i/ili sadržaj tango argentino online ili video (s objašnjenjima na posebnom linku, također moguće preuzimanje). Privatne i poluprivatne lekcije tango argentino mogu uključivati držanje, tehniku, zagrljaj, kretnje, pokrete, sekvence, vještine snalaženja na podiju i pripremu za tango natjecanja ili po potrebi. Svatko tko je izabrao ovu opciju, lekcije će biti dostupne nakon dogovora kroz dogovoren medij koje pojedinci koriste za njih cijelo vrijeme - sadržaj nolimit. 
Komuniciramo o vašim zadacima i napretku kroz WhatsApp, YouTube, Hangouts - live video poziv.
❤️Najveličanstvenija stvar je ako nam pošaljete svoj video vježbanja i dopustite nam upload na našem YouTube kanal kojem je cilj angažirati poboljšanje plesne i društvene vještine tango argentino zajednice šire. Korisno za cijelu @tango zajednicu i nove tangueras / tangueros.
Dodatne informacije i prijave za online sadržaj (obavezne) na This email address is being protected from spambots. You need JavaScript enabled to view it., +385 98 950 2738 ili putem kontakt obrasca na internetskoj stranici.  Svi su pozvani da se priključe putem jednodnevnih korisničkih članarina po viedu 60/70 HRK ili za sve dijelove mjesečna korisnička članarina 180/240HRK - 4 videa. Uplate se vrše kartično po dogovoru.